Yoga at Sage is friendly and approachable -- we're not shredding or ripping anything. Rather, each class gives you the chance to thoughtfully explore breath, movement, and mind...on your terms. Each teacher provides an authentic experience, including breathwork (pranayama), meditation, and a mix of modern and traditional postures (asanas). No matter where you are on your path to wellness, our teachers can provide comfortable modifications to ensure a safe and supported practice. Whether you are brand new to yoga, are dealing with an injury or medical condition or are anywhere in between, we invite you to come as you are and simply practice.
​Be sure to check our Facebook page for the most recent updates, including class additions, changes, and cancellations:
www.facebook.com/sagebodyworkjoliet
​
drop-in $15 6 class pckg $72 12 class pckg $140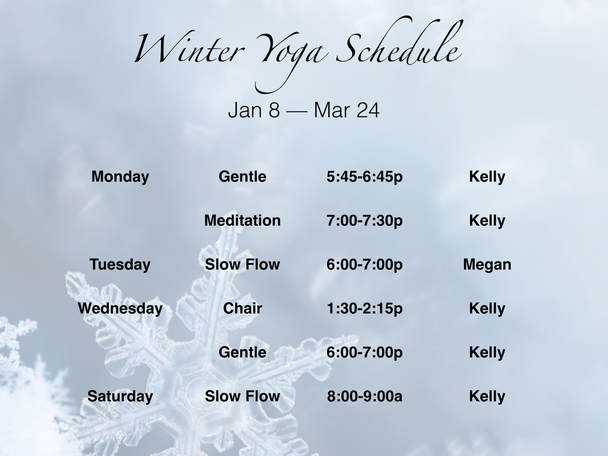 Click Online Reservation to register for any class.
Advance registration is highly recommended -- all class sizes limited to ensure individual instruction
Please arrive 5-10 minutes early

---
Class Descriptions
Slow Flow: Practice at a slower pace with longer held poses, with movement linked to breath. Develops strength, balance, and focus.

Restorative: Explore gentle poses with the support of cushions, blankets, and other props -- a profoundly relaxing and meditative experience.

Chair: Enjoy the benefits of yoga with the stability of a chair. Excellent for those with limited mobility or balance concerns.

Gentle: Slow paced practice that minimizes any time spent on knees or in inversions. Emphasizes proper alignment and body awareness--great for beginners.