Click Online Reservation to register for any class.
Advance registration is highly recommended - all class sizes limited to ensure individual instruction


Series, Workshops, and Special Classes


---
Monday Meditation


Seated comfortably, either in a chair or on a mat, we'll explore the art of quieting the mind by observing the breath. Each class allows for a bit of discussion followed by 30 minutes of sit time: part guided meditation, part silent sit. Make mindfulness a priority--the benefits are too good to miss!

Mondays 7:00 - 7:30pm (doors locked promptly at 7:00)
$5



​Hygge Yoga

Hygge is the Scandinavian idea of creating warm and cozy moments that facilitate well-being and a sense of togetherness--and this event promises to do just that! Combining elements of a gentle and restorative yoga practice, aromatherapy, and Reiki, we will finish the evening with a guided meditation over a warm cup of tea or cocoa--a perfect antidote to the cold and darkness of winter!


Friday 1/26, 6:30 - 8pm
$25 registered by 1/19, $33 thereafter
---

Click Online Reservation to register for any class.
Advance registration is highly recommended -- all class sizes limited to ensure individual instruction
Please arrive 5-10 minutes early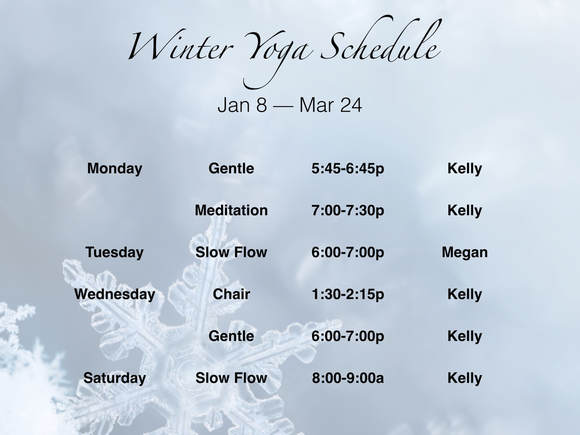 Slow Flow: Practice at a slower pace with longer held poses, with movement linked to breath. Develops strength, balance, and focus.
Restorative: Explore gentle poses with the support of cushions, blankets, and other props -- a profoundly relaxing and meditative experience.
Chair: Enjoy the benefits of yoga with the stability of a chair. Excellent for those with limited mobility or balance concerns.
Gentle: Slow paced practice that minimizes any time spent on knees or in inversions. Emphasizes proper alignment and body awareness--great for beginners.

---
Looking to Host Your Own Event?

Whether it's our place or yours, Sage has wonderful ways to generate enthusiasm for any event! Health fairs, community events and fundraisers, corporate wellness programs, bridal showers or girls' night out....we can customize services for just about anything; give us a shout!